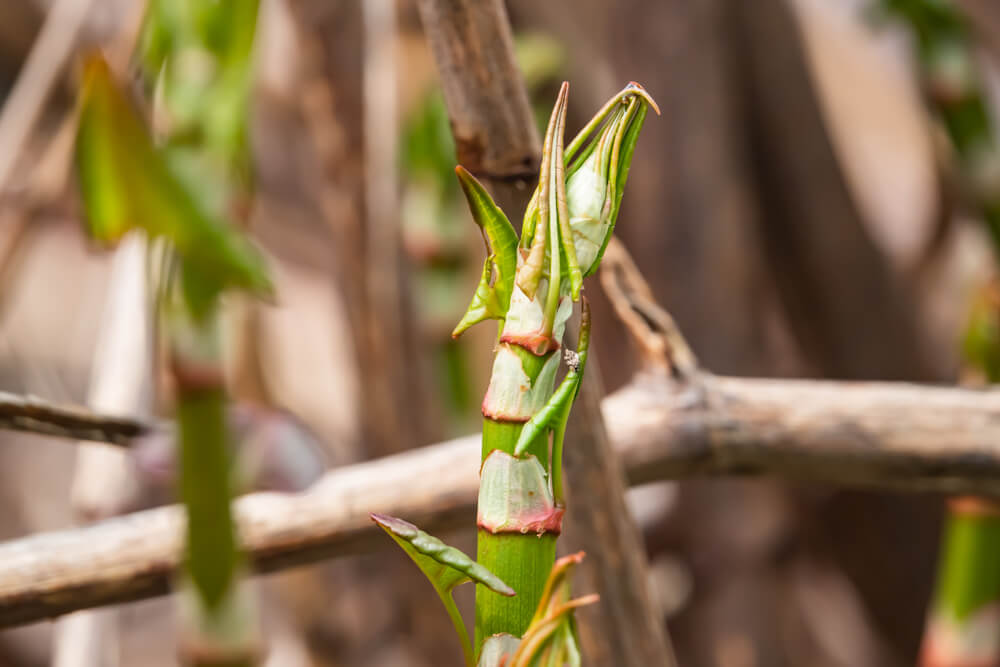 Like any kind of plant, Japanese knotweed has early signs of growth that allow you to identify the weed before it grows out of control. Japanese knotweed has been known to grow through walls, concrete and even tarmac, damaging the infrastructure of many homes across the UK. For this reason, it's vital to identify Japanese knotweed in its early stages.
Here's how you can stop Japanese knotweed in its tracks by looking out for key signs of growth.
Heart-shaped leaves
One of Japanese knotweed's most prominent features is the heart-shaped (or shovel-shaped) leaves that dominate the plant. They are a vibrant green and can grow up to 20cm long, so aren't hard to spot. The leaves will be staggered on the stem rather than clustered, giving them more opportunity to soak up sunlight, but will be curled up and dark in colour when the shoots first emerge.
Red shoots appearing
Once Japanese knotweed starts growing, you should be able to identify new red/purple shoots that are often compared to asparagus. These shoots can grow up to 10ft tall and will quickly develop into dense areas of bamboo-like stems during the spring. If you believe you have Japanese knotweed growing on your property and you attempt to cut these shoots down, you should notice a hollow interior. If the interior is solid, it's likely the plant isn't Japanese knotweed.
Buds form in early spring
Japanese knotweed growth occurs mainly between April and October, so you will see the appearance of flower buds from early spring onwards. Japanese knotweed buds are round in shape and tend to bloom between late summer and early autumn. The resulting flowers develop in small clusters and are cream/white in colour, creating thick foliage around the leaves and stems.
Quick growth
As one of the fastest-growing weeds in the UK, it's been reported that Japanese knotweed has grown up to 10cm a day in the height of summer. If you've noticed a plant quickly spreading across your garden and even infiltrating other properties, then chances are you're dealing with Japanese knotweed. The rapid root growth also increases its external appearance, with the plant reaching heights of up to 3 metres in 6 weeks.
Identifying Japanese knotweed with CYB
If you believe you've found Japanese knotweed on your property, you can contact CYB Environmental. We offer a free and quick identification that can help you confirm the presence of this weed, even in its early stages, before discussing removal. Currently, our Japanese knotweed solutions include:
– Chemical control
– Excavation of the roots
– On-site burial
We'll inform you of the best removal method for your situation, helping to control the plant and remove Japanese knotweed from your property. Our services extend to customers across the UK, especially to those in Japanese knotweed hotspots. If you require Japanese knotweed removal don't hesitate to get in touch with CYB Environmental, as failing to deal with this plant could lead to criminal charges.
Read more about the implications of leaving Japanese knotweed to grow in our blog and find out why it's best to deal with Japanese knotweed as soon as possible.