Japanese Knotweed is a notoriously invasive plant, so it is important that it is identified as early as possible, in order to mitigate the damage it can cause to your property. With professional consultation and removal, japanese knotweed problems can be dealt with. However, for this to happen, it needs to be correctly identified in the first place so the issue can be reported.
One of the complications involved with this is that many people cannot determine the difference between Japanese Knotweed and other similar, but harmless, plants from the same family. A recent study has revealed that four out of five home owners are not able to successfully identify the problematic plant. If you form part of this 80% of the population, we have put together this guide with you in mind, so you don't get caught out by failing to recognise Japanese Knotweed. To give you an idea of what to look out for, check out the 'What does Japanese Knotweed look like?' section of our website.
While it is straightforward for experts like ourselves, we understand that to the untrained eye, even to those who have an idea of what they are looking for, Japanese Knotweed can still be easily mistaken for other similar looking plants.
Plants Commonly Mistaken For Japanese Knotweed Include:
Bindweed – This plant "climbs with strong twining stems, has large heart-shaped leaves and large white trumpet flowers. It is most often seen as a hedgerow plant or weed, scrambling over and often smothering hedges and shrubs of all sizes and even smaller ornamental trees".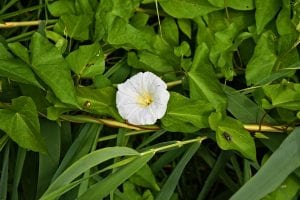 Houttuynia Cordata – These are described as "rhizomatous perennials with pungently orange-scented, heart-shaped leaves and tiny yellow flowers in spikes with usually 4 prominent white bracts at the base"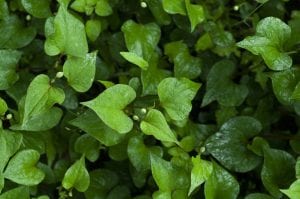 Russian Vine/ Mile-a-Minute Vine – (Otherwise known as Polygonum baldshuanicum) "this has long wiry stems sparsely clad with smallish leaves. The flowers are long airy sprays of creamy white bracts that almost cover the plants from midsummer to autumn. Plants grow at a tremendous rate, and can put on over 4m (13ft) in a year."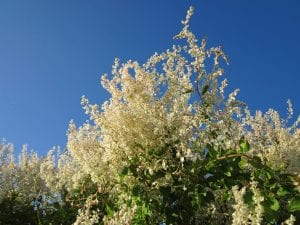 Below is an actual picture of Japanese Knotweed for you to compare. There are definitely similarities with the above plants, so it is important you are aware of them and can count them out in your own investigations. Remember, the most identifiable features of Knotweed are its bamboo like stems, off white flowers and heart shaped leaves. If after reading this you still suspect Japanese Knotweed might be present at your property, the best advice we can give is to consult a professional as soon as possible. Attempting to deal with the problem yourself could lead to the plant spreading and the issue getting worse.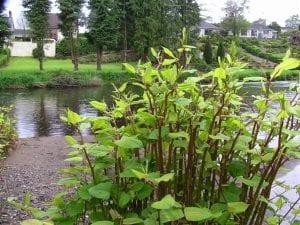 How CYB Can Help
CYB Environmental are industry leading experts in Japanese Knotweed Removal. We can provide insurance backed management plans to give you the peace of mind you need when faced with the difficult issues that this plant causes. We have offices based in London, Bristol and Cardiff, so we are ideally located to deal with problems arising in the South of England and Wales. Get in contact with us through our website, or if you would like to speak to a member of our friendly team give us a call today on 020 3095 7671.