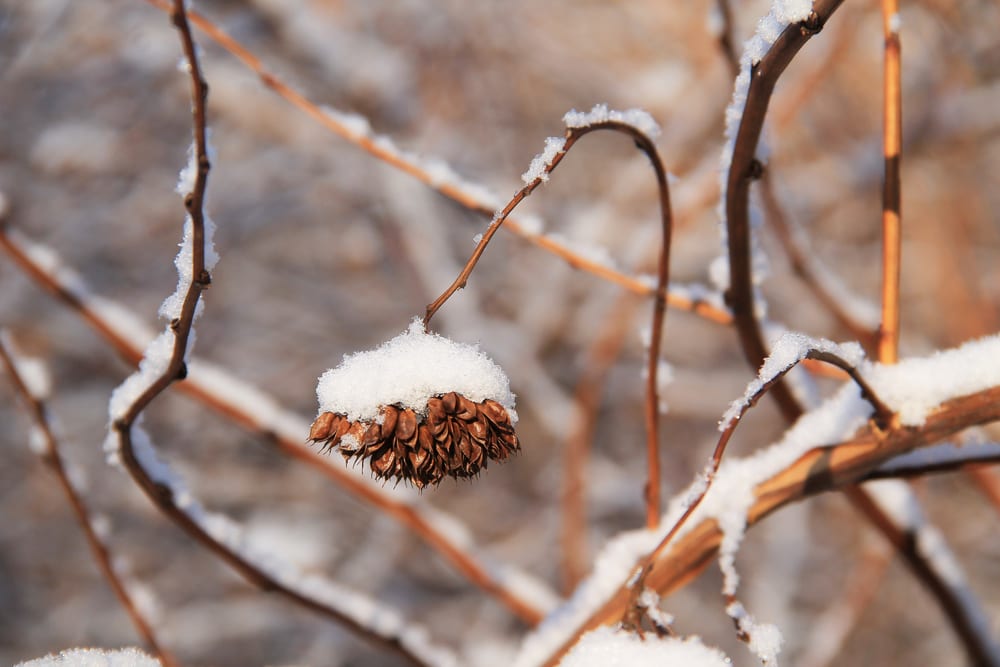 Japanese knotweed can play havoc in your garden during the summer months; it has similar traits to bamboo and can grow over seven feet tall. But when it comes to winter, the Fallopia Japonica, or Japanese knotweed, seems to die off. The canes lose their leaves and turn brown. Over the winter the canes will slowly decompose and the remains of the plant will litter the ground. The decomposing remains of Japanese knotweed on the ground will stop other plants from growing on that patch of soil. This plant is truly nasty, but don't be fooled by its decomposing state. This is the perfect time to go about removing this weed, as the plant is in fact not dead but in a dormant state. It will be back bigger and better with new shoots starting again in spring.   
What does Japanese knotweed look like in winter?
As temperatures plummet and the winter days takeover, the weed's heart-shaped leaves turn brown and fall off the plant. Its green canes will turn to brown and slowly decay and break down. The weed still remains standing and this is what gives people false hope that the weed is in fact dead. When winter has gone and spring fast approaches, you will notice that red or purple shoots will start to appear. These shoots will grow at an incredibly fast rate and will eventually reach 3m in height. You can see the familiarity between the Japanese knotweed and bamboo, except they are a darker shade- hollow and light.  
An effective way to spot Japanese Knotweed during winter is by looking up close. You will notice stems shaped in a zigzag pattern, growing towards the sky. Depending on what time you catch the weed, you may also notice the remains of white flower clusters. It is important to try not to break the plant or stand on the plant when identifying them as you may unknowingly spread it to different locations.
Did you know? 
Japanese Knotweed is the fastest growing invasive weed in the UK. During summertime, it can grow at a rate of 10cm per day and its deep root system can extend up to 3m underground

. 

Mortgage lenders have been known to refuse mortgages on properties which are affected by Japanese Knotweed.

Japanese Knotweed can grow through cracks in walls, tarmac and concrete. It will find a weak spot and exploit it. This in turn will reduce property value.
What should I do if I have Japanese knotweed in my garden?
When it comes to removing Japanese knotweed its very important to know as much as possible. There are regulations about the removal and disposal and even procedures if you were to sell a house that had Japanese knotweed in the garden. If left untreated, it can cause huge problems, not just for the plants in your garden, but it can also cause structural damage to properties and your garden landscape.    
Whatever the case, do not cut or chop Japanese Knotweed down. Japanese Knotweed is extremely difficult to dispose of and you can get fined for disposing of it incorrectly. Breaking canes of the knotweed risk breaking off a part of the crown attached to the underground rhizome network. This can trigger new growth, yes, but it can also lead to new areas showing knotweed appearing in your property if the fragments are not properly handled.
A knotweed rhizome fragment that weighs as little as 0.7g can produce a new plant, which is why it's so important to call up specialists like CYB as soon as possible. Specialists can remove the Japanese knotweed using methods that ensure they won't return. In fact, CYB has a 5-year warranty to make sure that you feel confident in using their service.
How do I get rid of Japanese knotweed in winter?
We recommend that when dealing with Japanese knotweed that you get in contact with a professional Knotweed removal service. We can provide you with site specific management plan, that will allow us to tackle the weeds. With this service we offer our customers an insurance backed guarantee as well. We would always suggest using a professional service when dealing with Japanese knotweed because without the proper removal and disposal of the weed, it may cause further contamination to the surrounding area.   
As you can see, Japanese Knotweed removal comes with lots of complications. If you want to speak to an expert, CYB Environmental are PCA (Property Care Association) accredited and are experts in all Japanese Knotweed related matters.
We service London, Bristol, the South of England and Wales. For consultation or removal call us today, on 020 3005 8755