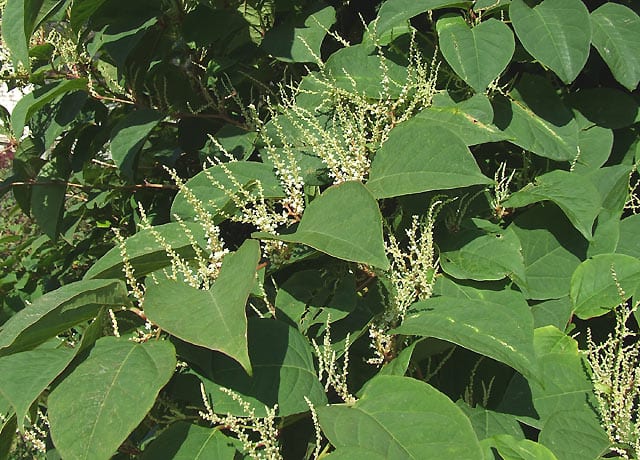 If you have found this blog, chances are you will be struggling with Japanese Knotweed mortgage problems, whether you are a buyer or a seller. It can be a hugely worrying issue and understandably so. We have put together this guide to show you that getting a mortgage or selling a property with Japanese Knotweed is achievable. With the help of CYB Environmental, you will be able to resolve all your Japanese Knotweed mortgage issues.
In a previous post, we have gone into detail about the history of Japanese Knotweed and what it looks like. So if you would like to learn a bit more general information about the plant, you can read the article here.
Japanese Knotweed Property Issues
It might be pretty to look at, but the Environment Agency have claimed that Japanese knotweed is "indisputably the UK's most aggressive, destructive and invasive plant". It has not earned this title by any mistake. Japanese knotweed rhizome (root structure) can extend up to 2 metres long and can in worst case scenarios', cause damage to your property, patio's and walls.
To add to the issue, Japanese Knotweed removal can prove to be an extremely difficult and painstaking task. Using powerful herbicide, it can take multiple seasons of consistent treatment to stop the plant from growing. In some cases, herbicide application alone is not enough. Successful eradication often requires a professional Japanese Knotweed contractor to fully excavate the root structure from the area.
After consultation, the chosen method of remediation will be based upon your individual requirements. Complete eradication is necessary in certain cases (such as development land) because sections of the roots can lie dormant underground for up to 20 years, before springing to life again if left untreated. It is very much advised for Japanese Knotweed to be excavated on development land so to not cause damage in the future.
What is the Cost of Japanese Knotweed Removal?
The cost of Japanese Knotweed removal by a professional will vary depending on the extent of the problem, the area of land affected and the intended use of the land. Self treatment of the issue will not be sufficient in order to get a mortgage against a Japanese Knotweed property. Hiring an expert to provide a Japanese Knotweed management plan may be more expensive in the short term, but if this secures your mortgage or allows you to sell the property, it is a more than worthy investment.
Attempting to treat the problem yourself can be a huge risk because even if you are initially successful, the plant can easily return in the following growing seasons. Also, keep in mind that it is legally classed as controlled waste because of the aggressive rate at which knotweed spreads. The weed must be disposed of at a licensed waste site, which can cause further complications when attempting to treat the problem yourself.
CYB are the most trustworthy organisation for the treatment and removal of japanese knotweed. We offer a 5 year backed guarantee, free of charge, with all of our treatment plans. So if the problem does return, you can rest assured we will be back to get rid of it again. CYB are also PCA (Property Care Association) accredited which means we can apply for 10 Year Insurance Backed Guarantee's, which your lender may require to re-mortgage or sell in the future.
Will Japanese Knotweed affect the value of my house?
Without professional help – yes. If treatment plans are not supported by appropriate guarantees, you risk devaluing your property. On top of this, if you are a seller, you may limit yourself to cash buyers because mortgage lenders will likely refuse to lend against the property without an Insurance Backed Guarantee.
To avoid such devastating losses of time and money, it is recommended that you seek out the help of a company that specialise in the treatment of Japanese Knotweed and are accredited with the relevant governing bodies.
Getting a mortgage on a Japanese Knotweed property
Firstly, it is obliged for a seller and an estate agent to make you aware of the presence of Japanese Knotweed at a property. Failure to do so is an illegal offense, as it will influence your decision to buy. Before buying a Japanese Knotweed infested property, contact the seller to ask for evidence of a treatment plan and also to establish who will bear the cost of this.
When applying for a mortgage, the lender will understandably need some reassurances that the problem is being dealt with. The majority of mortgage lenders will require a PCA accredited specialist to carry out a survey on the land and produce a Japanese Knotweed management plan. The plan should include the following:
Description of the property and a record of the infestation

Any previous treatments that have taken place

Timescales for removal

Scaled plan with dimensions and photographs

Details of the eradication methods to be used and the associated risks with that method

Details of the contracting organisation

The suggested monitoring period
Why You Should Choose CYB Environmental
CYB have chartered surveyors and valuation surveyors in house, who work directly for most of the UK's major mortgage lenders – so there is no organisation better suited than us to deal with your Japanese Knotweed mortgage problems. We offer consultancy and removal services covering London, the South of England and Wales.
Visit our website to get a quick quote, or call our friendly team to find out more: 020 3095 7671